The Voigt Pipe: The world's most easy-to-build High End Loudspeaker
---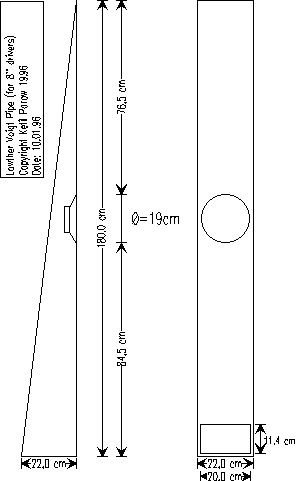 A visually appealing speaker with good bass response down to ca 40 Hz.
As with all Lowther Speakers: No crossover network and high sensitivity/efficiency
Building time and material costs are minimal.
Perfect for first-time loudspeaker builders, almost no wood-working skills are required.
The Voigt Pipe acts as a cross between a horn and a transmission-line (TL). By tapering the pipe as shown, the resonances will spread over a wide range of frequencies, thereby eliminating the 'one-bass-note samba' that can sometimes be heard in poorly designed reflex and TL enclosures. The Voigt Pipe is yet another of the late P.G.A.H. Voigt's audio inventions.
Notes for builders:
Loosely stuff the upper half of the pipe with clean, long-hair wool or equivalent damping material. The midrange can be 'tuned' somewhat by experimenting with additional damping directly behind the driver.
Dimensions shown are internal measures; Use at least 22mm plywood or MDF board
Suitable drivers: Lowther PM6A, PM6C, PM7A